When we were young: Welcome to the mouse house
May 13, 2014
This month's guest for my
When we were young series
is the talented and lovely Hayley from
Welcome to the mouse house.
Hayley is a whirlwind sewer, pattern maker, mother to two gorgeous kids, home decorator and a super friendly girl that I have come to know over the past six months. She has her own pattern label,
mousehouse creations
where she sells some fabulous girls' patterns and to date, one women's pattern too. Her blog has had a makeover and is looking fantastic! She also contributes to the new pattern collective,
Willow and Co
.
I don't know how Hayley manages to do all that she does with such enthusiasm! Here is her fabulous When we were young post....
*****
Where were you born/did you grow up?
I was born in Queensland, Australia. My dad is from New Jersey and my mum was born and raised in Sydney, Australia. They met in the 1970's when he was on a worldwide vacation to Australia. I was moved to the States when I was 4 years old, but we would go back to Australia often and for many months at a time. Half of my family is still there in Australia, including my brother (he moved back a few years ago). I miss that family very much.
Who did you
grow
up with?
I have one older brother, Lucas (Luke). He is 5 years older than me, so we grew up as very different individuals, but he always loved me and wanted to see the best for me. He lives in Australia with his wife Aline.
What
did
you like doing when you were young?
Oh man, I loved to do many things. One thing that always makes me laugh is how much I loved to decorate, even as a young child. I would draw sketches of how my room should look. I would bring them to my parents and request a change, and crazily enough, my parents usually obliged and let me turn my dream into a reality. I would dream up how to paint my room, remake the curtains, build shelving, reorganize the closet. These were things I was doing at 8 years old. My bedroom changed more times than I can count and I can't thank my parents enough for allowing me to do that.
I also loved to read. I think I read more books than anyone I knew by the time I was 12 years old.
Did you have any childhood ambitions?
I wanted to be an interior designer, architect, children's book writer, and psychologist. Considering I have my degree in Psychology and have done lots of interior design... I think I am good with how things turned out. :)
Do you see similarities between yourself and your children?
Ha, oh yeah. I see me in Ainsley, which is why she drives me nuts, but it also makes me happier than I have ever been. She is stubborn, funny, exasperating, persistent, cute, humorous, creative, and so snuggly. She is me. To a tee. There is no denying she is my child.
Then there is Ethan. He is completely the opposite of me. I can't even explain it. I am not sure if it is his Autism or not, but man, he has the biggest spot in my heart. He is the person that made my heart bigger. My heart swells when I think of him. He is so smart, so literal, so completely intelligent. I don't see much of me in him, but I do know that me and Ethan have a special bond. A really special bond.
Where do you live now and who with?
We live west of Philadelphia in a very suburban town and we love it. It is a very good spot for us right now.
Hey guys! I am Hayley from
Welcome to the Mouse House
, where I blog about my sewing adventures, my wonderful family, and how I
decorate my house.
I have two kids... my almost
7 year old son Ethan
and my 4.5 year old daughter Ainsley. Oh man, she is a trip and she is absolutely identical to me in every way. Personality, looks, silliness, persistence, you name it... we are the same person, and our life paths are so very similar. When preparing for this series, I sorted through many photos before I came up with the look I wanted to recreate. Finally, I stumbled upon one of my favorites. My mum used to sew for me all the time and made me many adorable pinafores. The one on the left is me in 1983 and I made my own version for Ainsley on the right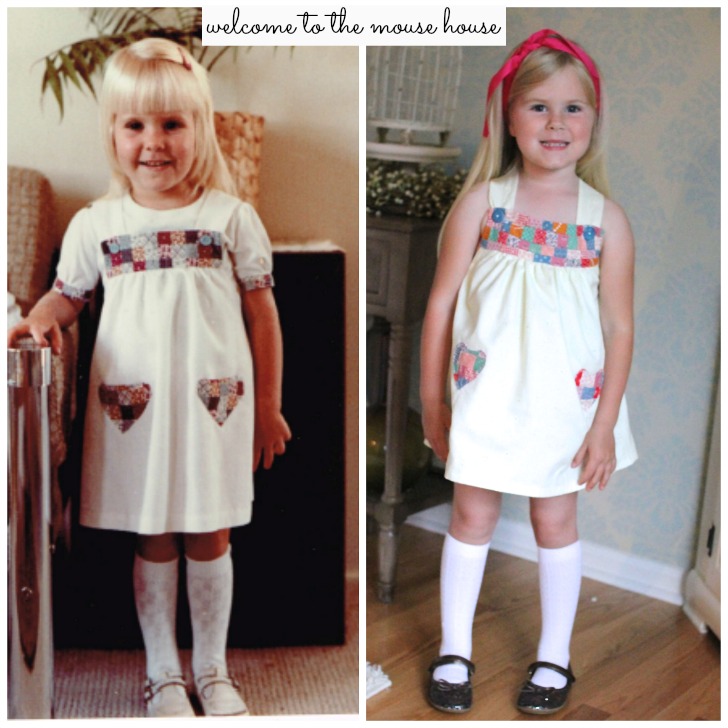 I did a lot of modeling as a child, and so does Ainsley. The picture on the left is me in 1984 and the one on the right is Ainsley earlier this year. I can see the differences in the eyes mostly (oh, and the bangs!) and the chin, but seriously, either picture could pass for us.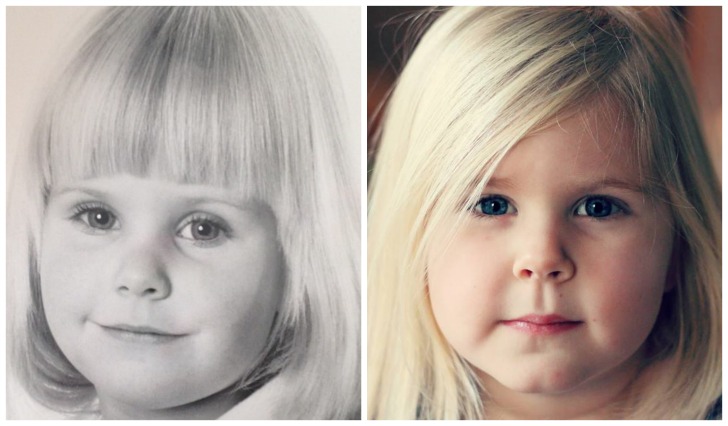 Like I mentioned, my mum was an avid sewist and made most of my clothes. I look back at photos and I can specifically remember my outfits because I took such pride in them knowing my own mum made them for me. Knowing that I am doing that for my own children is such a blessing and a source of joy for me. My mum was my biggest sewing inspiration and she is the reason I have the passion. We used to visit fabric stores together, where she would let me choose my dress fabrics, curtain fabrics, and bed spread textures. It was amazing to have that choice as a child and then see it turn into a reality. I have been teaching my own children how to sew and I truly hope they have the same memories as I did.
(check out my Little Stitchers series!
)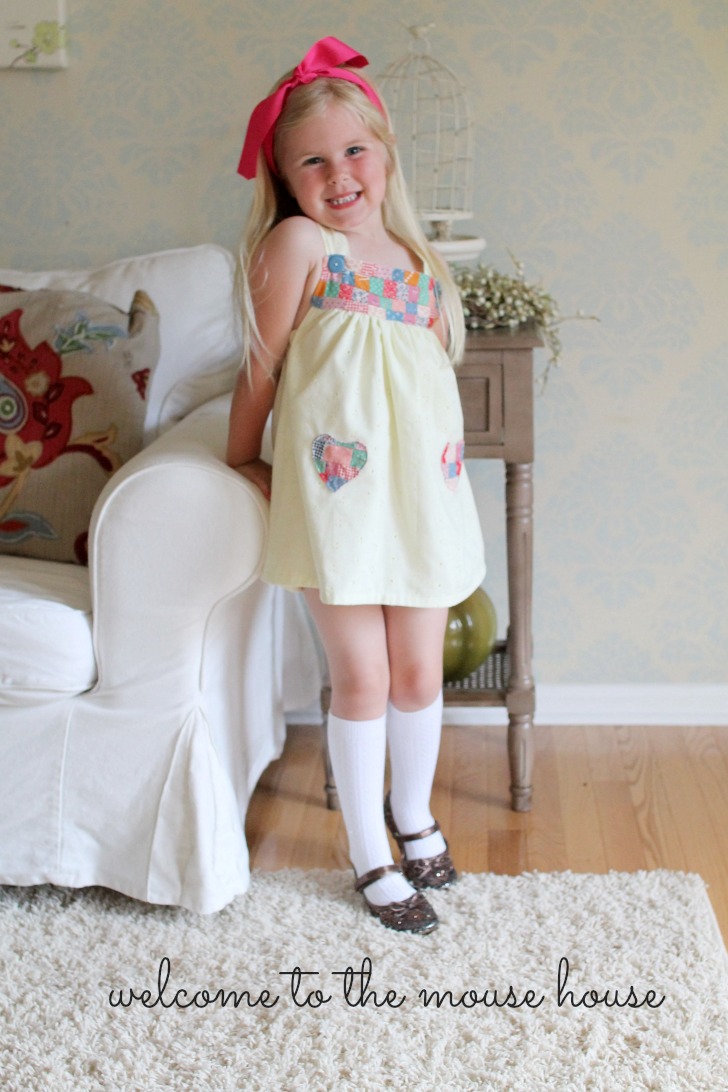 Here I am in preschool. Check out those pigtails, ha, but I did consider recreating this look. I love the bright polka dotted shirt with the hair ribbons.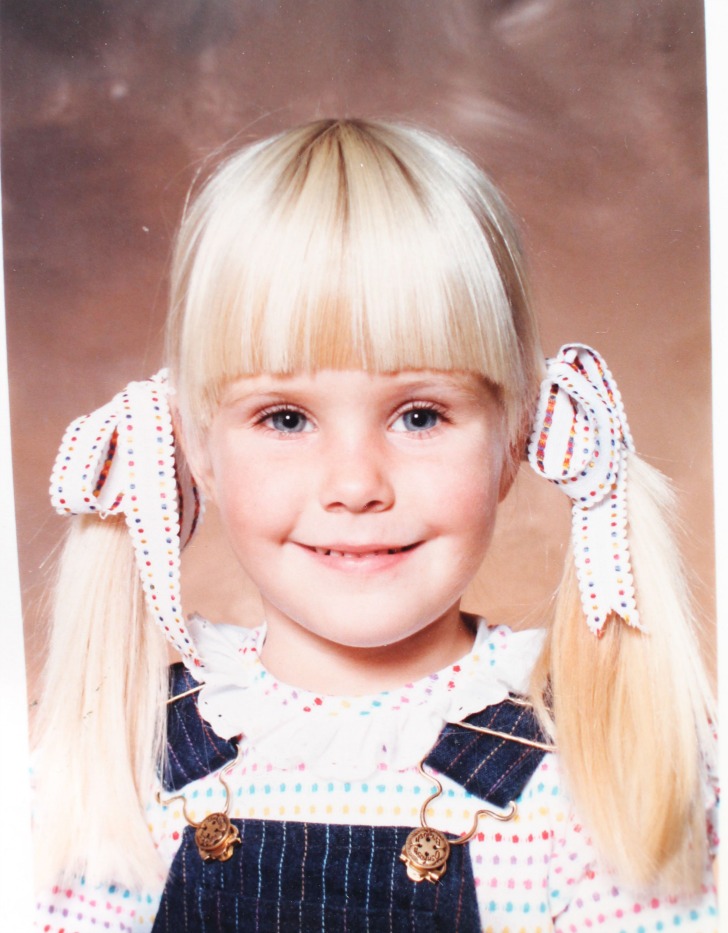 Another one I considered was this adorable corduroy jumper. Love the color! I think this was Kindergarten.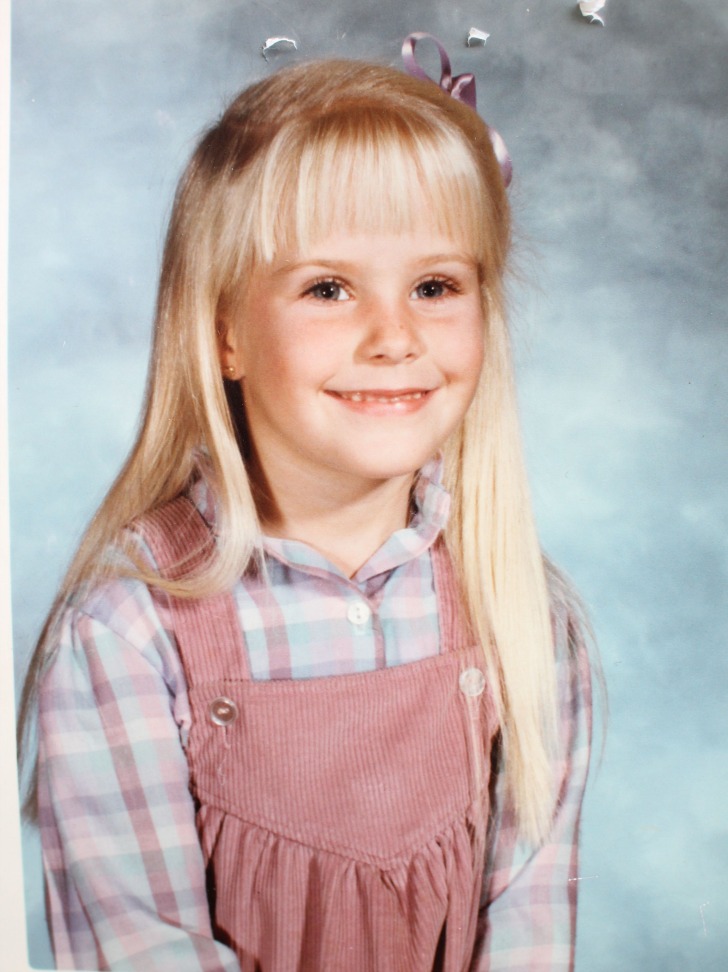 One thing I was never good at was knitting. I come from a family of good knitters... I think it skipped a generation. Here I am with my brother Lucas. How cute are we?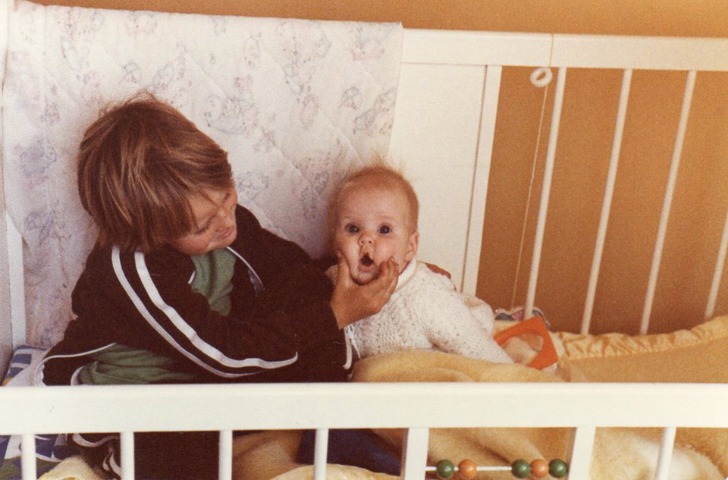 I was born in Australia (for those of you that didn't know that), but this is definitely one outfit I did NOT consider... check out those awesome sweatpants!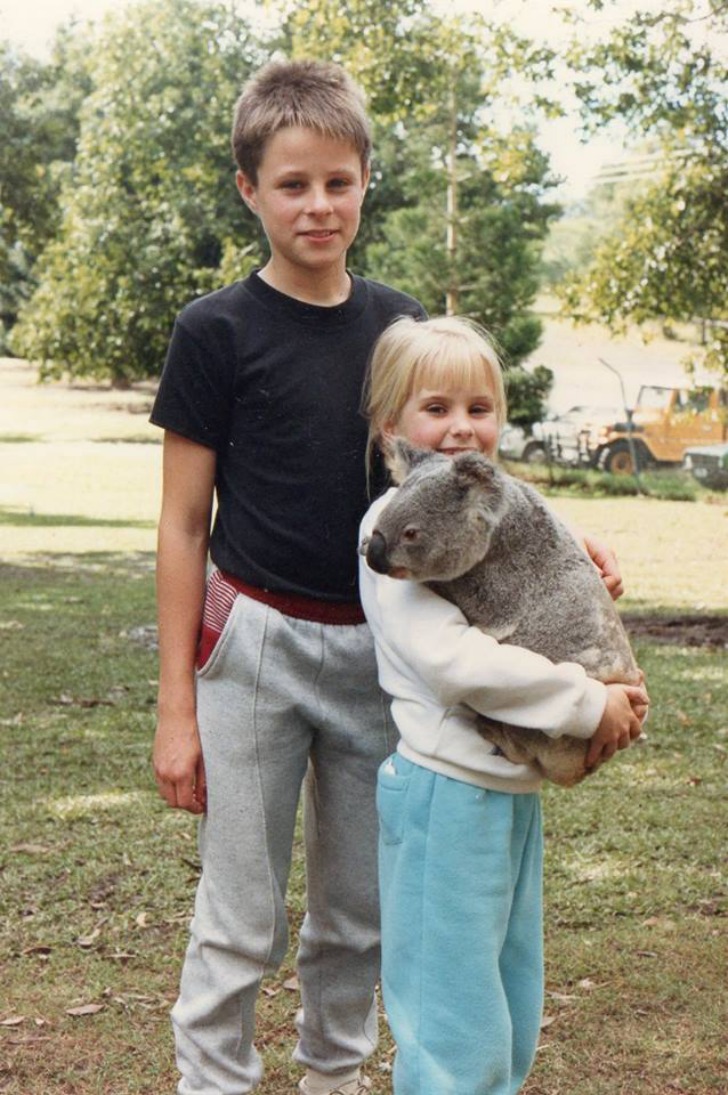 So, in the end, I knew that the pinafore would be best. I have been making this style for Ainsley for a long time and I just love the classic style. This is one of those dresses that will never go out of style.
The original pinafore used a quilted look fabric... basically just a print that looks like a quilt (typical 1980's, right?) but I searched everywhere and couldn't find it, so I actually had to quilt my own! I cut a bunch of tiny squares and put them together to create the looks ( I am NOT a quilter, so this was rather different for me).
So, yeah, tons of tiny squares pieced together... a total departure for me, but I think it was worth it to get the look I wanted.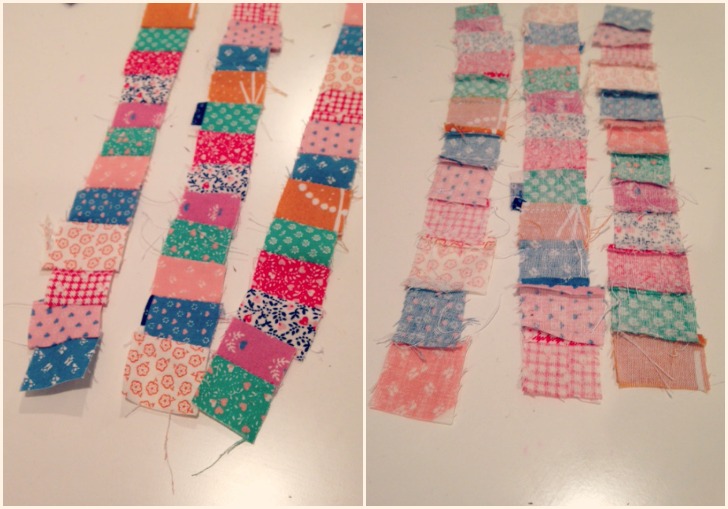 The back is a simple cross back with elastic. Absolutely perfect for summer (or layered over a tshirt like my original picture!)
Thanks so much for having me! I absolutely LOVED looking through my old photos and realizing how great life is. The pattern for this dress will be available soon, so check back at
Welcome to the Mouse House
for that!
*****
Thank you so much for this amazing post Hayley! You did such a great job on this dress, it is gorgeous!! Thank you for sharing your stories and all your great pics!!